Last Updated on 15/04/2021 by Aditya Kumar
Starlink is a satellite produced by SpaceX, which is high-speed internet, low latency broadband connection. They designed it for high internet speed so that it can provide high-speed broadband internet from direct satellite anywhere on the whole earth. The Starlink satellites are present in the Lower Earth Orbit, which is at a distance approximately 60 times less than the current network satellites. This will increase data sending and receiving speed due to less distance. SpaceX Starlink broadband connection will work only when there is a clear sky. If there is cloudy weather, it will be exactly the same as with DishTV.
They offer you a wifi router, power supply, cables, and mounting tripod with pre booking package. Their Starlink app is also available on Android and Apple Play Store. With the help of this app, you can find out on your location whether Starlink's WiFi will work here or not. And with the help of this app, you can select the best location in your area for the installation of that Starlink WiFi.
SpaceX Starlink broadband started delivering their beta service both domestically (U.S.A) and internationally. As soon as they launch more satellites, and installs more ground stations, latency, data speed, and uptime will improve dramatically.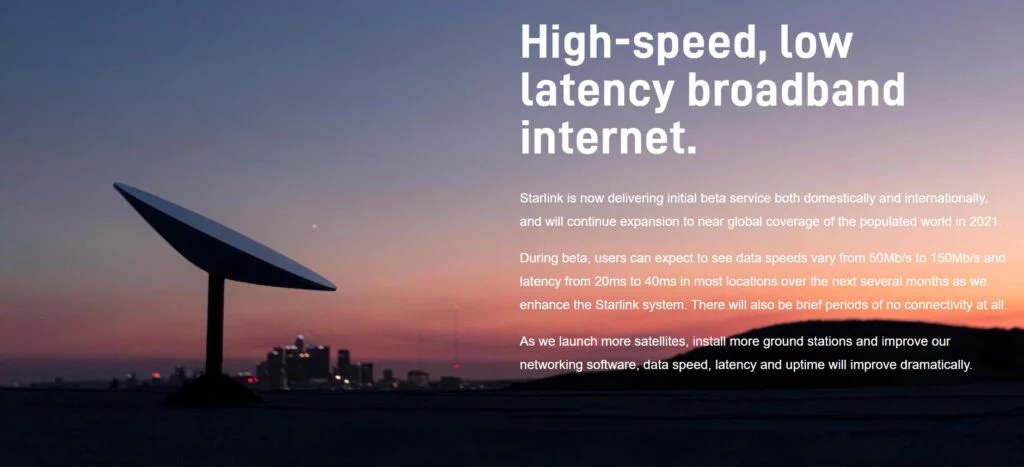 Service Charge
$99 per Month
Download Speed
50 Mbps to 150 Mbps
Data Pack
Unlimited
Equipment Fee
$499 one time payment
Availability
Limited due to weather conditions.
Cloudy sky interrupts the transmission between satellite and receiver.
How much will Starlink Internet cost? Pre Order Booking Detail.
Elon Musk's company SpaceX has started a pre-order booking of $ 99 in India, which is around 7300 rupees. You can book it by visiting Starlink's website.
When can I get Starlink Internet?
He has said that he will start his service in India by 2022. If they are unable to provide service, then they will refund the entire money.
Is Starlink faster than 5G?
Talking about data speed, Starlink will give only 10 times more speed than 4G LTE, and 5G will give about 20 times the speed.
Will Starlink provide free Internet?
Yes, families living in rural areas of Texas can get this facility for free. They are going to provide free internet to about 45 families, later this number will be increased to 90. For this, these families will not have to pay anything.
How fast will SpaceX Internet be?
SpaceX satellite internet speed can vary from 50 Mbps to 150 Mbps.
Will Starlink work with cell phones?
No, by this you will be able to use the internet facility only by connecting your mobile. If you go out somewhere, you will have to carry a cell tower connection. This will only provide you a connection at home or office.
Can I get Starlink Internet now?
No, only you can pre-book it now. They will make their service available to Indian users by 2022.
Will Starlink replace cell towers?
It is said that Starlink will replace the cell towers is not possible yet. Because Starlink needs a clear open sky to provide internet service without interruption.