Last Updated on 02/01/2021 by Krishna
Creating a CV or resume is an art. A CV or resume is an advertisement of your skills, experience, and knowledge. If you fail to advertise it correctly, then you will not get an interview opportunity. There are so many websites available on the internet that can help you create a professional cv, resume, and cover letter. We are going to talk about the Top 10 websites to build a resume or CV. If you want to build it manually, you can do it. But in the manual process, we have to do a lot of research.
1. What are the necessary points?
2. What should we do?
3. What not to do?
There is a lot of things we need to do. But on an online website, we need to select a template and enter the data. And the rest of the work is done by the website.
Nowadays, companies use ATS Application Tracking System for the screening process. They got a lot of applications. If they start screening manually, it will kill their precious time, so they use ATS. ATS works on the keyword and cv format. So it is necessary to keep it well-formatted. If your resume or cv is not in a good format, then reading your resume will be a difficult task. If ATS is unable to read your cv, then your application will not get selected. Keep this point in your mind while designing a resume or cv. We need to make it convenient for ATS. Here is the list of Top 10 websites to Build a Resume.
Top 10 Websites to Build a Resume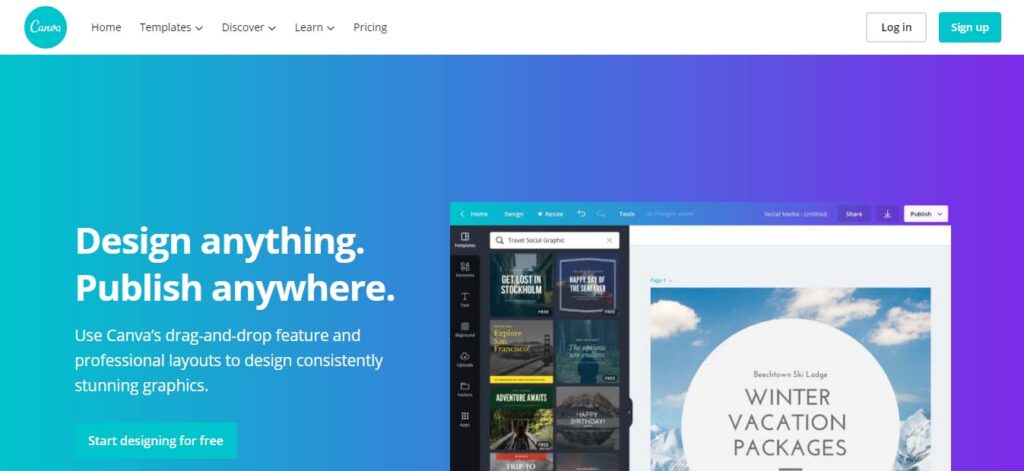 It is the most popular website that offers you to create a free resume. It has some paid plans, but you can use its free version. In the free version, you get 250,000+ free templates. With the help of these templates, you can create whatever you want. It also offers 100+ design types for social media posts, presentations, letters, etc.
You can create an attractive and good resume using the resume template. To create a Resume, click on Templates, and then go to the personal section and click resume. After that, you can choose a blank resume or a template. Choose which looks good according to your choice and click it. You can change the data which is already present there and put your data. The process is simple and easy to use. Canva gives you 5 GB of cloud storage in its free version. It has millions of users.

Kickresume is a free platform that offers you to create a resume. They have some paid plans that give you unlimited access to their services. If you are a student, then here is good news for you. Kickresume is free for all students who can prove their student status with ISIC, ITIC, or UNiDAYS. You can create a resume as well as a cover letter. The resume format is an important aspect when you apply for a job. This site helps you to create your CV or resume without any difficulty. If your resume format and data look clean and in chronological order, then it increases your chance.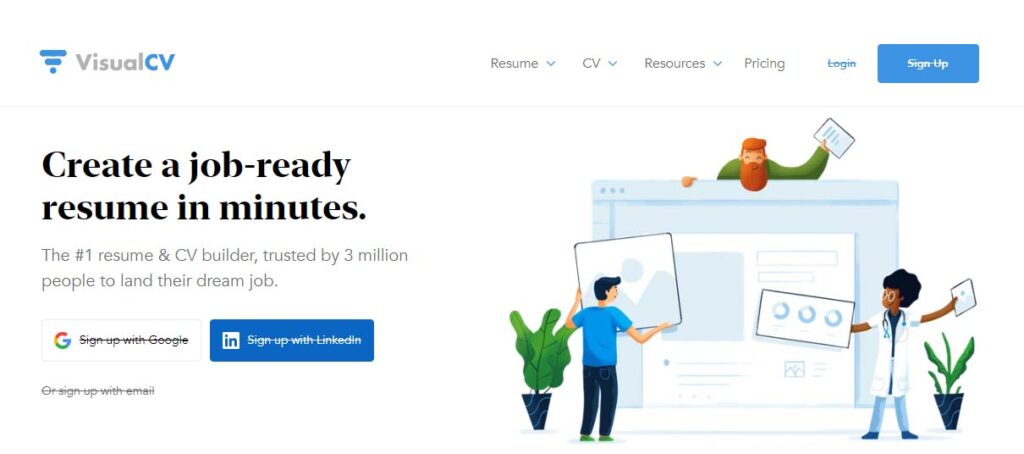 You can create a free resume with VisualCV in three simple steps.
1.Choose your design.
2.Customize your resume.
3.Track your results.
The third step is an important part. Resume analytics will let you know when an employer views or downloads your resume. This helping you avoid getting lost in the hiring process. You can get free feedback on your resume. The free account of VisualCV gives you three design Templates, create a Resume, download pdf, etc. It is not much, but it can fulfill our need to create a free resume. VisualCV was launch in 2014. It has more than 3 million users across the world.

Zety offers you to write a resume and cover letter using the same templates. It gives you free suggestions on building a resume. You can create a CV, Resume, and cover letter with the help of Zety. It is simple and easy to use. It was launch in 2016. It has more than 2.5 million users. All you need is to click on the resume template and fill the form. Your resume is now ready. You can choose various templates provided by Zety according to your need.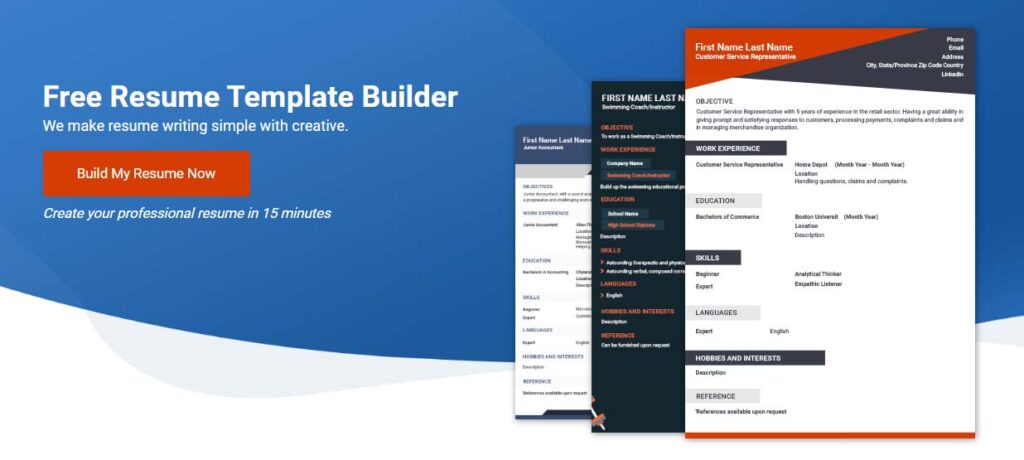 Free Resume Template is a website that helps you to create your resume. You can create more than a Resume for your profile. It works by following simple steps.
1. Select your industry.
2. Select your resume templates.
3. Edit your details.
4. Save and Download.
It is easy to use. It has templates that are suitable for fresh graduates and entry-level positions. These templates mainly focus on the profile and skills of the candidate. If you are fresher, then it is a better choice for you. It provides a lot of templates by job category. Resume templates are according to the industry standard.
Flowcv is a free website for creating a resume. You don't even need to create an account. You can create multiple resumes without any problem. They offer to create your resume in multilanguage. They claim that their cv is fully readable by ATS. And it is a good thing for our resume. This website will give you some resume tips that are very helpful while designing a resume. They do not provide any feedback. But they provide a sharable link. You can share this link with your friend and ask their views on it. Their design is flexible, and you can save your resume in a pdf file.
Myperfectresume is a free website. You can create a resume and cover letter. Choose a template that suits you. Fill the form, and save it. It is simple and easy. It made 15,000,000+ resume, 1,000,000+ cover letter. It gives 30+ Templates. It provides fast and easy formatting. This website has a chrome extension. It offers some other services like Resume check, resume customizer, cover letter builder, resume builder. You can use it to improve your resume.
Resume Genius works in 3 simple steps.
1. Select a template.
2. Enter your information.
3. Download and print.
It is the easiest way to create a resume. Resume Genius has 60+ million readers worldwide. Resume Genius gives you an option to choose between 50,000+ job description bullets. You can download your resume in an MS Word file or a pdf file. It provides a free critique from a resume expert. You can create a cover letter. If you are confused, then you can check their examples. It will help you to choose a good template.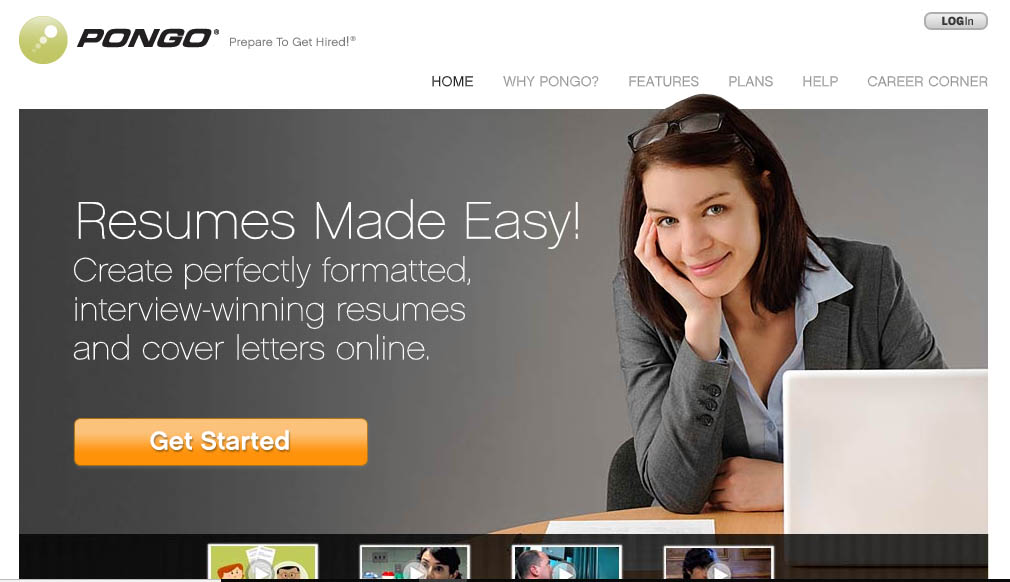 Pongoresume is the best platform to design your cv or resume. It has a paid version and a free version. In the free account, you will get
1. An easy resume builder.
2. Tips and sample phrases.
3. Custom resume template and many more things.
You can save your file in text, pdf, or word format. If you have any problem, you can call or chat with them. They provide some cool templates and interview tips that help you.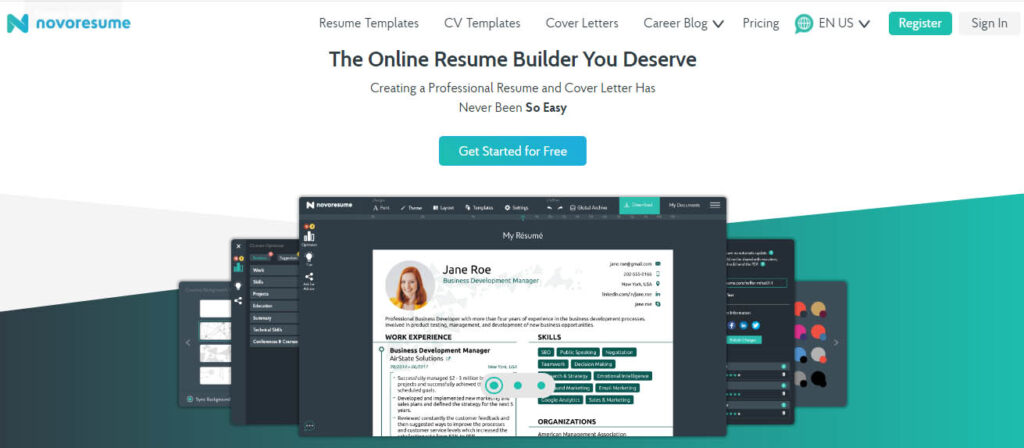 Novoresume is a good platform for creating a resume. It started in 2014. The problem is that the free version of Novoresume offers only a One-page Resume, Predefined Layouts, and One Resume. You can save your resume in pdf format. Novoresume gives you live feedback to improve your content. It provides a free cover letter and resume sample. It works in 4 simple steps.
1. Register yourself.
2. Choose a resume layout.
3. Optimize your content.
4. Export and send.
How to check the review of a resume?
TopCV is a website that gives you a free review of your CV. Today companies use ATS technology. ATS works on the keyword and formatting of your CV. TopCV uses similar technology to review your CV. To get a review, you have to upload your cv and enter your e-mail address. So they can send the report. You can use this website to get a free review.
These are the top 10 websites to build a resume or cv. If you know something better, then comment on it. We will consider them later.
If you want to get free job alerts, then create them with the help of google. Click here to know more.